Sunday Live meditation
20 minutes of live guided meditation
Join me weekly for a live mindfulness meditation

Every Sunday at 7pm (UK time) join our community as I guide you through a short meditation,
to help you reconnect with the calm that is always inside you (somewhere!)

This mindfulness meditation has no religious connotations, it is simply an exploration of our own experience and is suitable for those of all faiths and those of none.

This session is suitable for all levels of experience.
Complete beginners may like to listen to
Mindfulness made easy
on my website before taking part
Meditation leader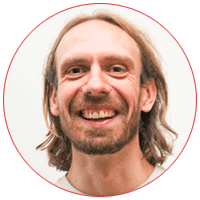 I have spent over 20 years exploring various forms of spiritual practice, initially as a means to deal with my own issues.including bouts of severe depression in my 20s.
This led to me qualifying as a Shiatsu Practitioner in 2007 after 3 years of training, and as a yoga teacher in 2009.
I led my first mindfulness course in 2011, and regularly teach introductory courses, as well as more specialised and advanced courses and workshops.
Throughout my journey I have always maintained a healthy scepticism, formulated in my scientific background at school, having studied Maths, Physics and Chemistry at A-Level.
I regularly attend 10 day Vipassana meditation retreats in the style of Goenke, and am greatly influenced by the works of Krishnamurti and Adyashanti; the work of psychotherapists G & K Hendricks, Robert Masters and Dr Peter Levine; and the integral theory of philosopher Ken Wilbur.
For more info visit: www.authentichealth.co.uk
Frequently Asked Questions
When does the meditation start and finish?
The session will start at 7pm on a Sunday for 20 minutes. The live stream will start approximately 10 minutes before that, so please arrive a few minutes early to make sure you are logged on and don't miss anything.
Is this for beginners or more experienced meditators?
Both! The meditations will all be easily accessible, and options may be given for more experienced meditators to deepen their practice.
What will I need for the session?
Obviously you'll need a PC, tablet or smartphone to listen to the meditation. Other than that, only a quiet space where you can sit comfortably and not be disturbed for 20 minutes, making sure your phone won't ring for example.
What position should I meditate in?
You will find that sitting up means you stay more alert and and attentive - whether this is sat on a chair with a back or cross legged on the floor is entirely up to you - whats important is that you are comfortable. Some people prefer to lie down whilst meditating, this is ok especially if it is the only way you can get comfortable, but you may find your mind tends to drift off more.
Will there be teaching aswell?
The main focus will be on the meditation itself, although there will be a short introduction to each one.
I've never meditated before, is it difficult?
It's really simple and straightforward. It is recommended that you visit www.authentichealth.co.uk beforehand and spend 30 minutes listening to the mindfulness made easy recording